Bagels
It's an easy recipe, but it's in two parts:
Mix the dough, rest, shape, refrigerate overnight
Boil, drain, add toppings, bake
Ingredients
Makes 10 bagels
680 grams of high gluten flour
2 tsp table salt
3/4 tsp instant yeast
1 Tbs diastatic malt powder
4 Tbs malt syrup
1 1/2 cup + 1 Tbs warm water
The night before instructions
Dissolve the instant yeast in water, stir and let sit 5 mins to ensure activation.
Blend flour, diastatic malt, and salt.
Add water/yeast to flour mix and blend/knead for ~8 mins until the dough is smooth and stretchy.
Cover dough with wet towel and let rest for 20 mins.
Weigh the dough in total, cut into 10th sized parts one at a time.
Roll into rope, stretch around 3 or 4 fingers and roll to seal into bagel shape.
Put bagels on tray, cover with the wet towel and refrigerate overnight to develop flavor.
The day of instructions
Fill a wide pot with ~4 inches of water and malt syrup, it should be sort of tea colored.
Bring water to boil and also preheat oven with baking stone or steel to 450°F.
Boil the bagels in batches that fit the pot until they float or ~2 mins. I do two batches of 5
Drain on a rack. This is when you add toppings if you want. Don't let them sit, get into oven as soon as possible.
Bake 15 mins to start, and leave in longer (but watch closely) for darker color.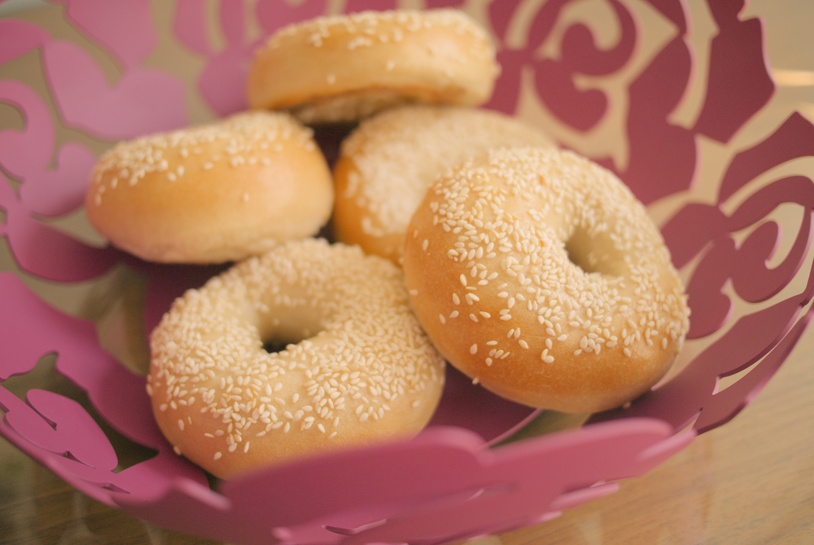 Bonus tips
Really beat up the dough when mixing, if you're using a mixer, try different speeds
Keep the rolled and unshaped parts of dough covered with a wet towel to avoid them drying out
Bagel boards will help you get a nice texture on the bottom. See below.
Use a stone or steel the size of your oven rack.
Only boil what fits in the pot and stove, wait until the stove is free to start the next batch boiling and keep uncooked bagels in fridge until ready to go in the water.
They are best eaten same day, slice extras and freeze as soon as they cool. They keep well frozen for several weeks.
Bagel Boards
Bagel boards are boards with burlap stapled on one side. They allow you to bake the bottom of the bagel a little bit, and then flip right side up for the main baking. The purpose of this is to create a skin on the bottom that prevents it from sticking. It's completely possible to make bagels without flipping, but they will need to be scraped off the baking surface and will be a bit crusty on the bottom.
To use bagel boards, soak them in water (I just use a baking sheet with a deep rim). After taking taking the bagels out of the boil and topping them, put them face-down on the burlap side. Place boards in oven and bake for 4 min this way, then flip the bagels off the boards (right side up now) and remove the boards. Continue the bake as normal (~11 more mins or so).